Do Not Submit Expired Tender Documents!
Renewable business documents tend to be tricky to keep track of and, at times, bidders tend to discover they are using expired tender documents too late in the tendering process.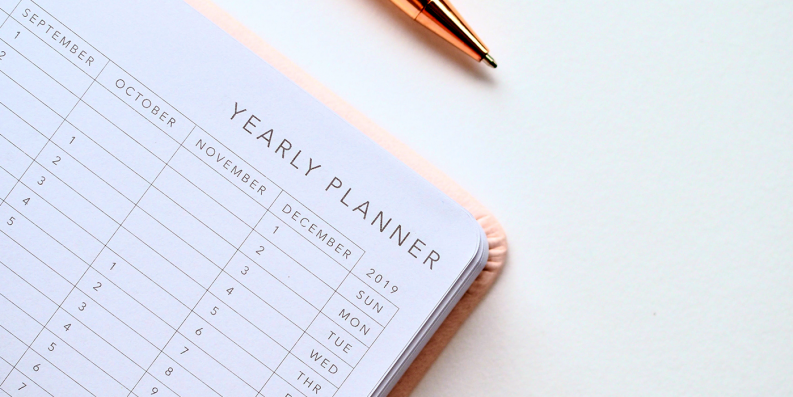 Generally, all types of documents that are used by businesses can be grouped into three broad categories as follows: expired tender documents
Long-term Use Documents: Certificate of Incorporation, Client Recommendation letters, Tax Registration certificate, Audited Accounts etc, are those documents that rarely need to be changed or renewed. Some of them remain valid for the lifetime of the business from the time they are issued unless there is a significant change in the business. For example, the Certificate of Incorporation is only updated when the business gets a name change.
Single Use Documents: These are created on-demand and are usually used for something like submission in one specific tender. The bid security or a bank confirmation letter that can be required based on the type of tender being responded to. These documents are categorized under 'Single Use' since they tend to be addressed to a particular procuring entity in reference to a particular tender.
Renewable Documents: These are the documents that have a specific and predefined validity period from the date of issue. Some examples include the Tax Compliance Certificate which is valid for a period of 12 months while the AGPO certificate is valid for 24 months.
Submission of expired tender documents
When it comes to tendering, the renewable documents tend to be the most tricky ones to keep track of. Many businesses tend to discover about the expired documents too late in the tendering process (or never realise at all that the documents are invalid) and may just decide to try their luck by submitting them as they are in their proposals.
Unfortunately, this never passes the watchful eyes of the tender evaluators as can be seen from the unsuccessful bidders as shown below: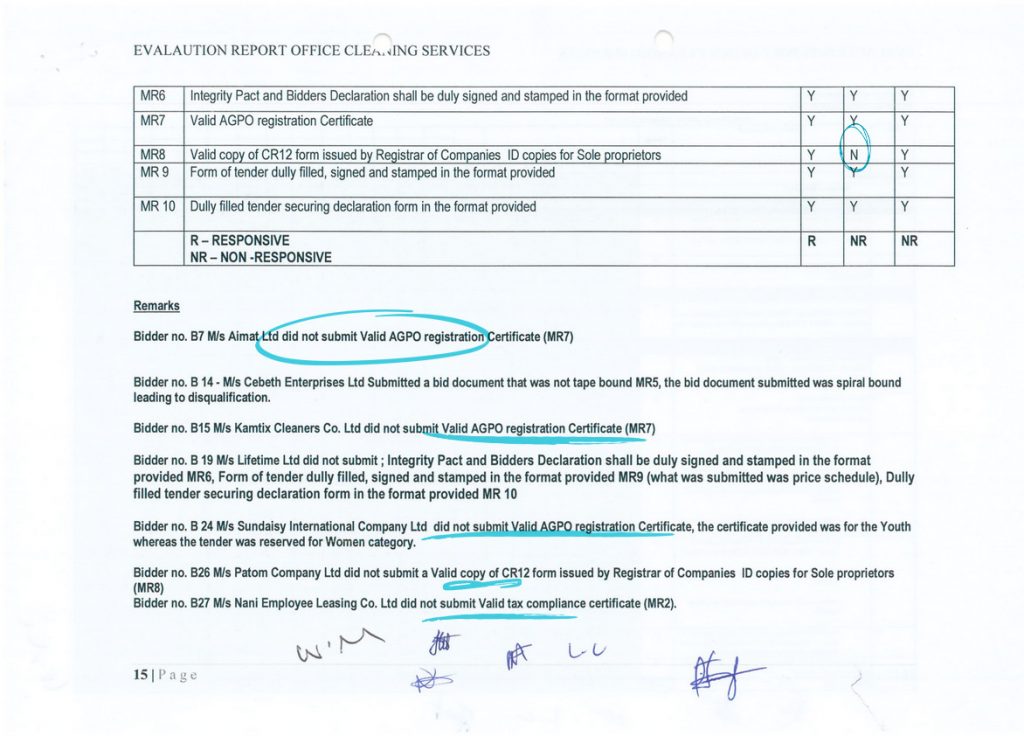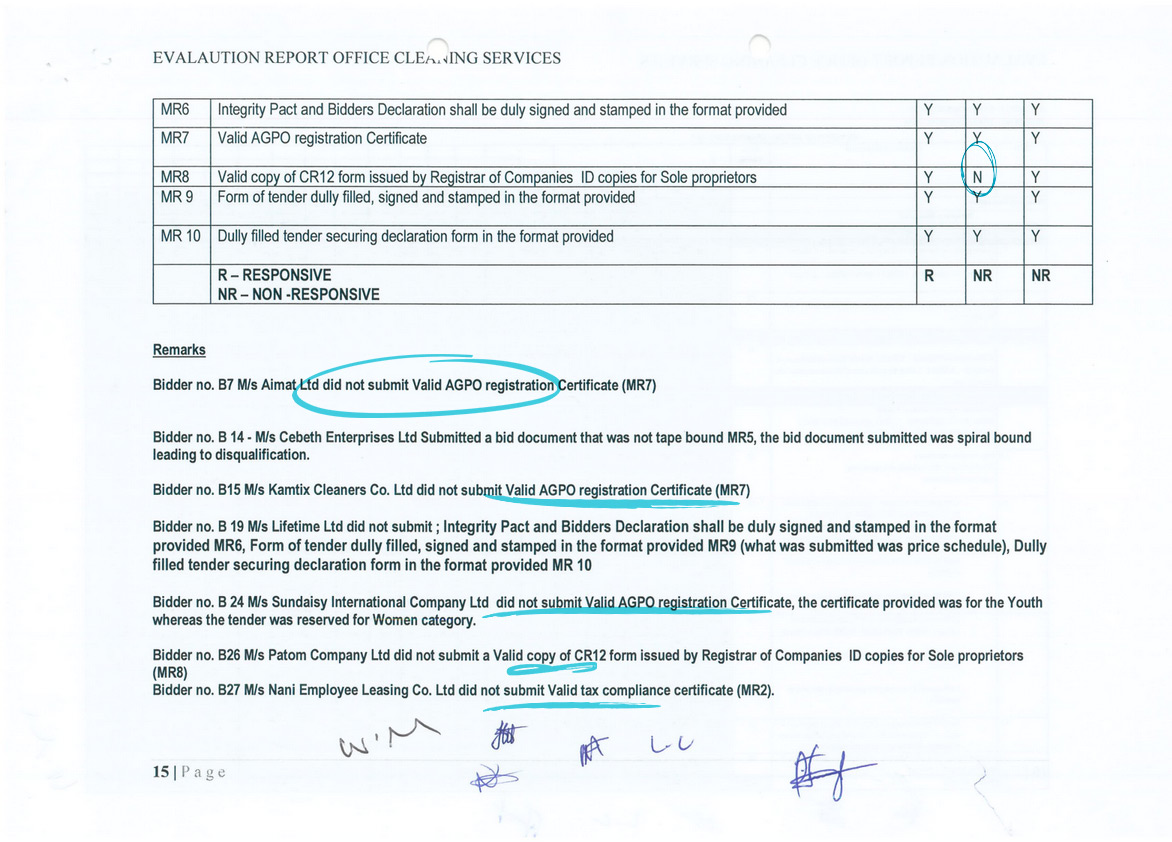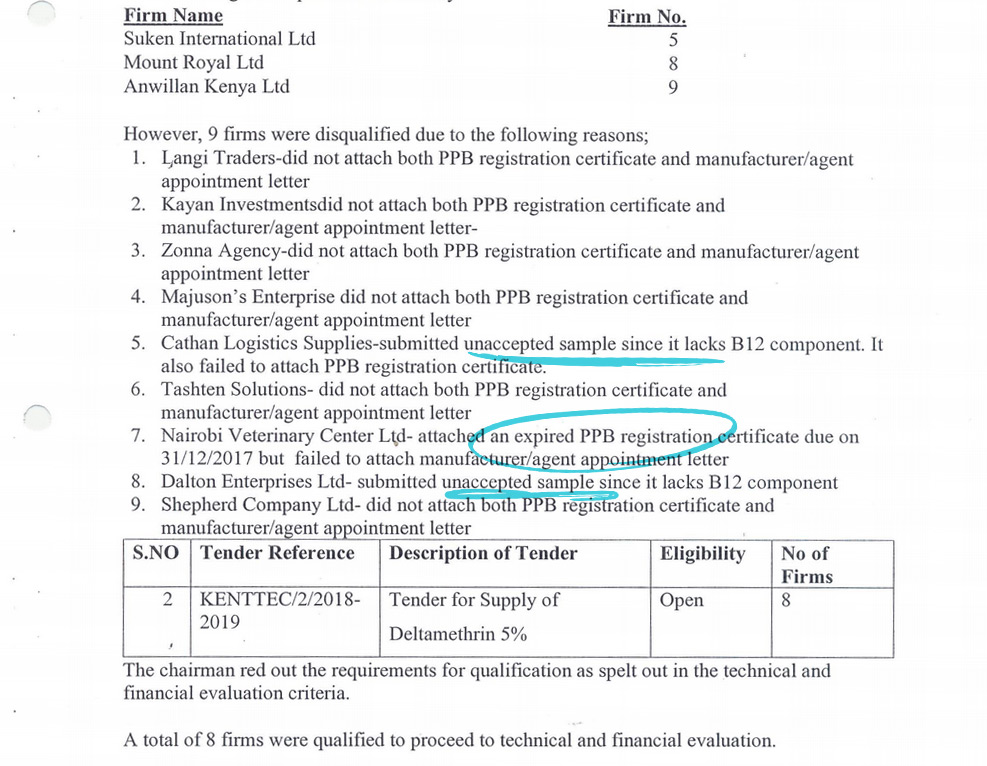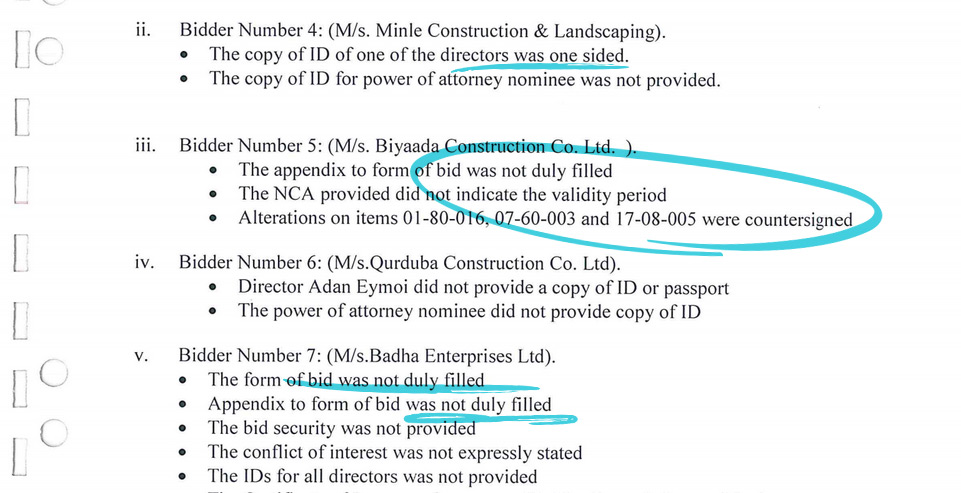 Depending on the procurement method and type of tendering, public procuring entities will request for various documents from any of these categories to ensure responsiveness to a tender.
Is there a legal basis for this? 
The Public Procurement And Asset Disposal Regulations, 2020 Arrangement Of Regulations (The Public Procurement And Asset Disposal Act (No. 33 Of 2015)) clearly states that:
The following attachments are essential for appraisal and you are required to ensure that they are all attached, failure to which your application may be rejected:
Copy of certificate of incorporation/registration;
PIN Certificate;
VAT Registration Certificate;
Valid Tax Compliance/ Exemption Certificate;
Original Bank Statement/Bank reference of not more than three months from date of applying;
Copy of certificate of registration with relevant regulatory bodies (for persons with disabilities registration with National Council for Persons with Disability);
Business/Company profile;
Evidence of having paid the non-refundable fee for the Application Form;
Copies of Annual Return Forms, filed by Limited Companies, the Business Names for business names (sole trader and partnerships), and a stamped receipt which bears the Accounts Stamp from the Registrar of Companies/Societies; CR12; Partnership Deed;
Certificate of Registration in a target group issued by the National Treasury;
National IDs/ Passports.
This sounds familiar, right? It's because we already highlighted this section of the Act in our previous article 'The Case of The Missing Tendering Documents' which shows that most of these common tendering mistakes are actually very much related to each other as they are all guided by the very same laws.
There is no winning bidder that should be discovered to have submitted a single invalid document as part of their tender proposal. This means there is no procurement officer that will give a score for such a document as they themselves will be held liable for either corruption or providing false/misleading information in the evaluation process.
How does Scale solve for expired tender documents? 
Scale comes with an inbuilt mechanism that ensures you easily manage all your different types of business documents. As you upload your documents, you will be requested to provide the date issued/expiry for each document. This allows the system to automatically calculate the validity period. Once this is done correctly, Scale will send you alerts via email when any of your renewable documents are nearing their renewal date; hence giving you ample time to apply for and update them.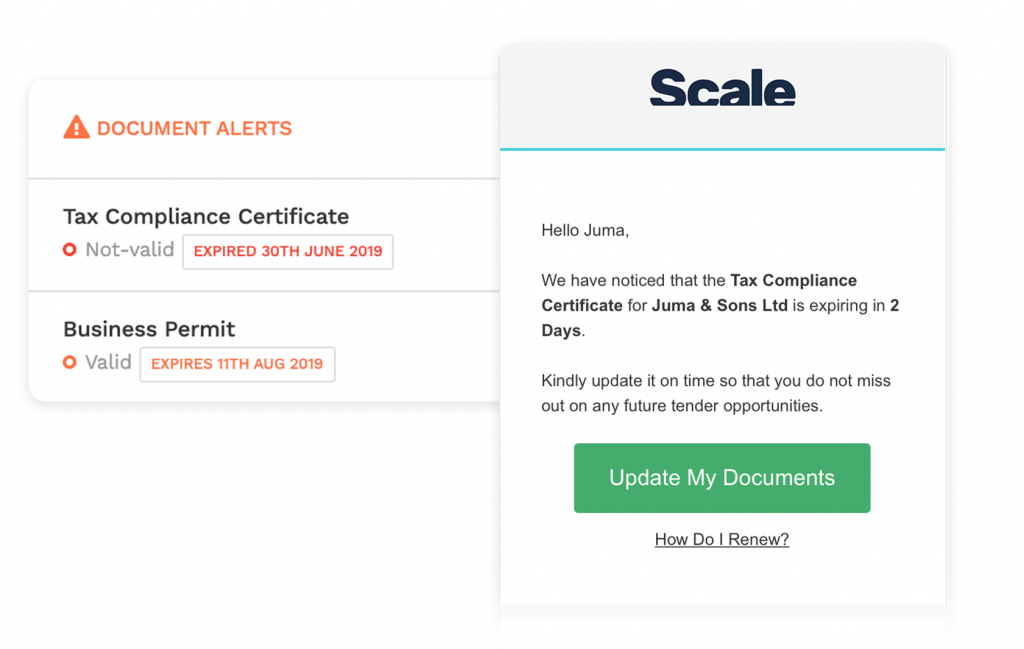 Secondly, as you work on your tender response, Scale clearly highlights any of your business documents that may have an issue and needs you review. This also ensures that you are able to easily check and Verify that every single document that ends up in the final proposal is correct and is definitely what you want to be submitted.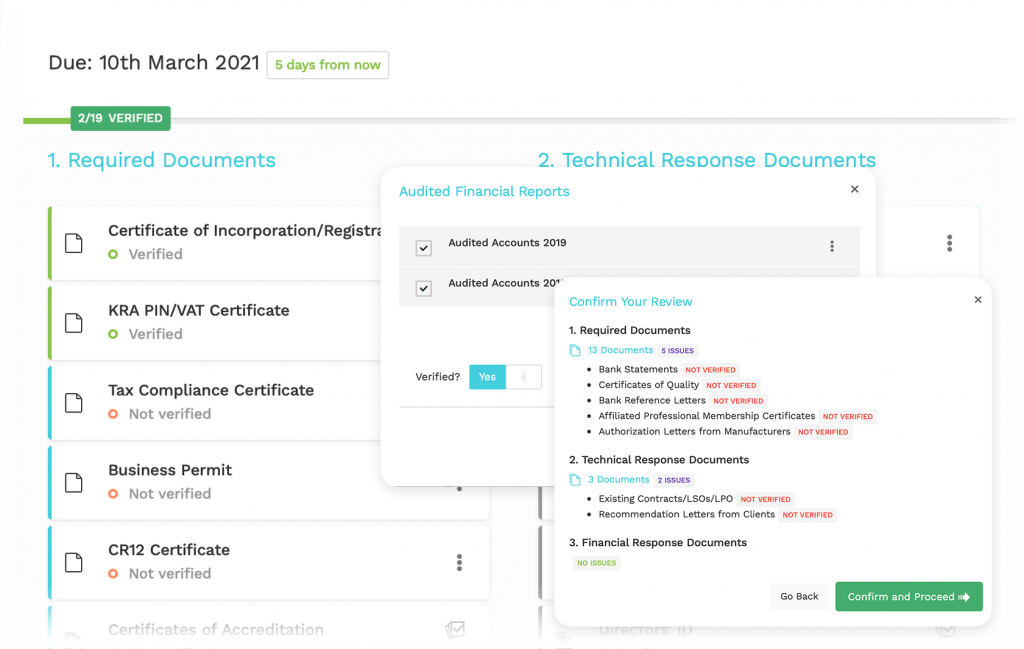 Finally, our Help Center has all the details you need when it comes to bid submission. This includes information on where to source various these business documents, how much they cost and how long it will take to get them. With Scale, submitting invalid or expired business documents will be a thing of the past. Sign up today and get 2 months free access. expired tender documents
…This article is part of the Common Tendering Mistakes blog series.
Editor's Note:
In August 2022, we
launched a new version
of Scale that came with major system changes hence features on our platform may not entirely work as depicted in some of the articles. The rest of the information provided herein remains timely and relevant to all our readers.