The first hurdle in tendering – Mandatory Business Documents
Get to understand the set of documents that are the most requested and should be included with every tender submission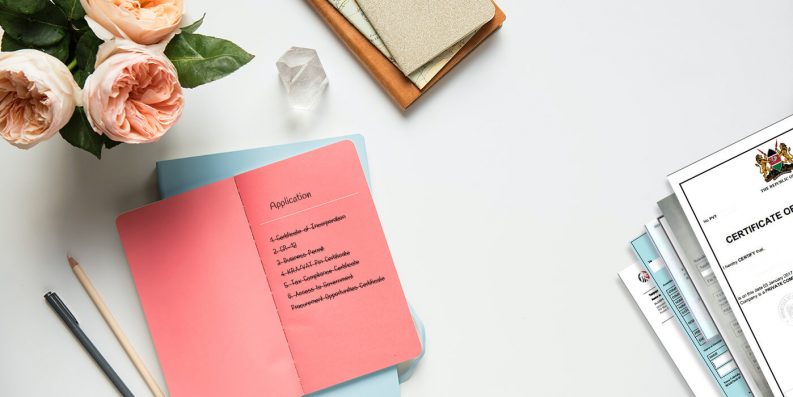 Today we are looking into some of the most important of all the tendering documents. This set of tendering documents are often the most requested and should almost always be included with every tender submission – Business Registration Documents. They are also requested for during prequalifications or registration of suppliers.
Business Registration documents are official Government documents that verify a company as registered and can legally conduct business in the country. These documents are only issued by the Government and when requested together with a few other types of documents, they become what is usually referred to as the Mandatory Requirements or Preliminary Requirements.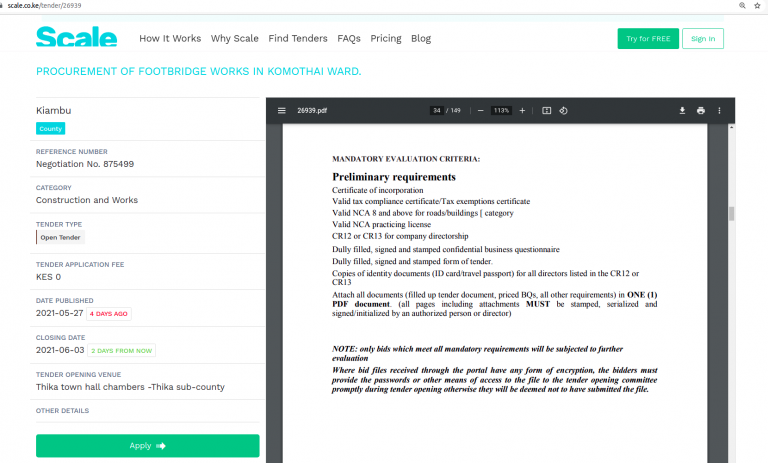 What this means is that without these mandatory tendering documents, you can neither get pre-qualified nor can you pass the first technical review for any type of tender you respond to. And due to their importance in the procurement process, we figured we needed to provide an overview of each of these documents for you.
Here's an overview of the 6 most important documents under this category:
1. Certificate of Incorporation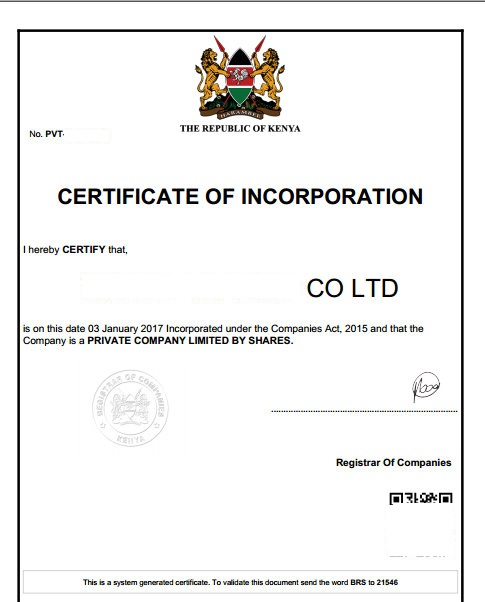 The Certificate of Incorporation is issued by the office of the Registrar of Companies through a digitised process on www.brs.ecitizen.go.ke You can get access to the BRS portal using your normal eCitizen account details.
This certificate does NOT EXPIRE when issued, can be revoked when the business entity is officially dissolved through the Registrar of Companies.
The cost of getting the certificate varies based on the type of business and other services required during the registration process and all payments are done via M-PESA. See the detailed breakdown of costs for various services as provided on the Business Registry Services website.
2. CR-12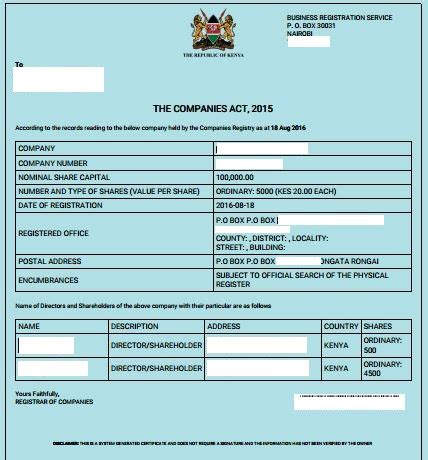 The CR-12 is an official confirmation by the Registrar of Companies in Kenya that first, confirms the existence of the company's records at the company registry. Secondly, it also provides and confirmation of who the directors/ shareholders of the company are.
Applications for the copy of the CR-12 can be done through your http://www.ecitizen.go.ke account. The CR-12 is issued at NO COST and is Valid for 12 MONTHS.
3. Business Permit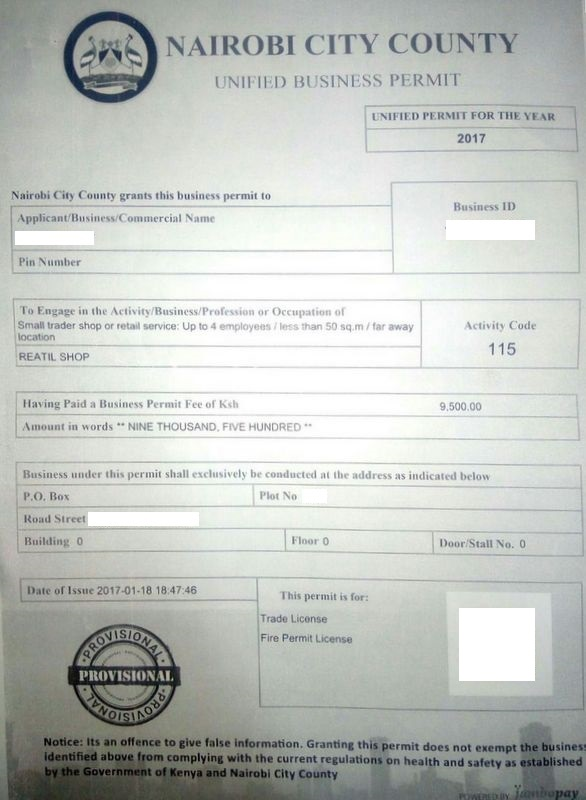 The types of permits and trade licenses applied for depends on a number of different factors. These include the geographical location of the business, the number of employees, business type, activities of the business among others. Depending on these factors, the permit can be issued by various entities; with County Governments being the most popular and prominent issuers.
These business permits are usually VALID for 12 MONTHS, therefore, needs to be renewed annually. The cost of acquiring one varies depending on the County (geographical location of the business) and type of business.
If you are in Kisumu, Nyeri or Mombasa counties, you can apply for your permits online via your www.eCitizen.go.ke account These 3 counties have integrated with Citizen to bring these services online. For the rest of the counties, you will visit your respective county offices or their official websites for more information.
4. KRA/VAT Pin Certificate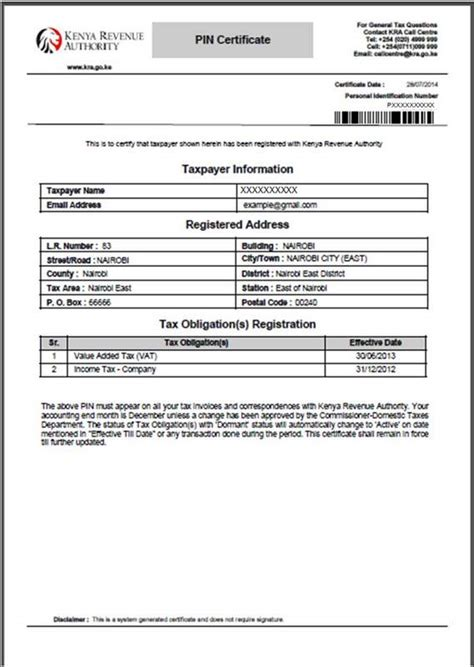 The Kenya Revenue Authority Personal Identification Number (KRA PIN) is used to identify persons or businesses while interacting or transacting business with Government agencies and other service providers.
The Value Added Tax (VAT) Certificate allows registrants to charge and collect VAT as well as receive refunds where the amount of input VAT has exceeded the amount of output VAT. While companies & partnerships can voluntarily register for VAT, they MUST register if their annual revenue exceeds Kshs. 5,000,000.
The KRA PIN and VAT Certificate are issued at NO COST. Both of these documents are issued and are downloadable online by the Kenya Revenue Authority via https://www.ecitizen.go.ke/ or on the KRA portal https://itax.kra.go.ke/KRA-Portal/
5. Tax Compliance Certificate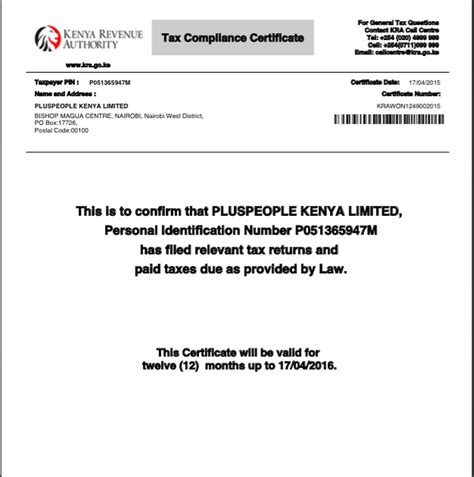 The Tax Compliance/Clearance Certificate (TCC) is an official document that is issued only by the Kenya Revenue Authority. This certificate is issued to individuals and businesses as proof of being up to date in filing and/or paying their tax obligations at the time of application.
The Tax Compliance Certificate is issued at NO COST and is Valid for 12 MONTHS upon which a new one should be applied for. The application is done online via the KRA portal https://itax.kra.go.ke
6. Access to Government Procurement Opportunities Certificate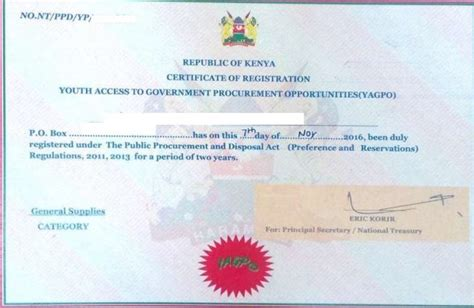 The AGPO Certificate is issued to registered businesses that fall under the preferential procurement initiative aimed at opening access to 30% of all government tenders to businesses owned by the Youth, Women and Persons with Disability. More at Why An AGPO Certificate is Important for Your Business.
AGPO certificates are issued by The National Treasury and they remain VALID for 36 MONTHS. This means they need to be renewed after every three (3) years.
Application is done online via the AGPO portal www.agpo.go.ke You can also get assistance with your application process by visiting any Huduma Center office countrywide at absolutely NO COST.
Managing all these tendering documents….and more
Every procuring entity publishing a tender provides a list of documents they need provided as part of the bid proposal. And because these documents vary and can be of many different types, it is usually a challenge to keep track of the multiple documents.
A common question that most of our users ask us is, "What if my tender document is about to expire, can you help me renew it?" The answer is No. Unfortunately, it is not in our mandate to assist you to renew your documents.
Within Scale, we have organized the list of tendering documents into five (5) unique categories, making it easy for you to manage them. Further, if you input the information as requested when uploading your documents, we will send email reminders and notifications in good time so that you can plan to renew them before their expire. We covered this in detail in our previous article.
NOTE: Both the list and the information in it are subject to change at any one point. Please ensure you verify the information by visiting the official websites for the issuing entities providing.
…This article is part of the Understanding Tender Documents blog series.