Why an AGPO Certificate Is Important For Your Business
Over KSh 300B worth of GoK tenders set aside every year for AGPO, here how to starting participating for a share of these funds.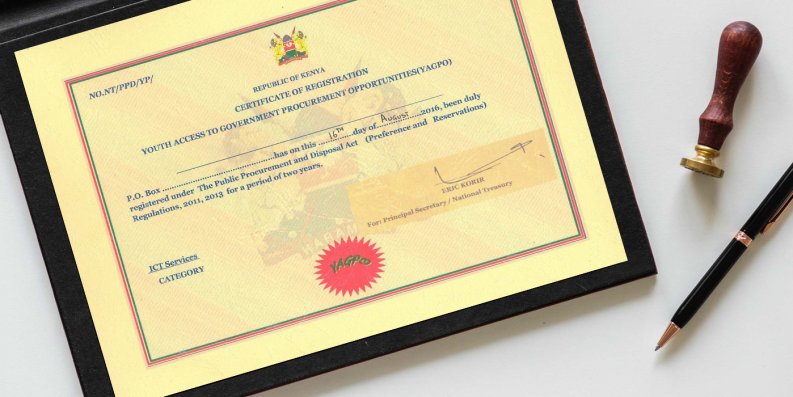 What is AGPO?
AGPO stands for 'Access to Government Procurement Opportunities' – an affirmative action program launched on 16th October 2013 that facilitates the legal requirement for disadvantaged groups to access 30% of all public tenders. According to the Public Procurement and Asset Disposal Act (2015), enterprises in which a majority of members or shareholders are youth, women and persons with disabilities are classified under 'disadvantaged' group and are eligible to get an AGPO Certificate.
The Act outlines special preferences and reservations that are meant purposes of enhancing the ease of participation for the following target groups:
Disadvantaged Groups (Youth, Women, and Persons with Disability)
Small Enterprises
Micro Enterprises
Citizen Contractors
Local Contractors
Citizen Contractors in Joint-venture or Subcontracting arrangements with foreign suppliers.
The AGPO program is aimed at empowering enterprises owned by these disadvantaged groups by giving them more opportunities to do business with the Government. To benefit from the preferences and reservations set out for youth, women and persons with disabilities, you must be a legal entity that:
is registered with the relevant government body
has at least seventy percent (70%) membership of youth, women or persons with disabilities and;
the leadership shall be one hundred percent (100%) youth, women and persons with disabilities, respectively.
How does one become part of AGPO?
Well, for you or your business to take advantage of the procurement opportunities set out for youth, women and persons with disabilities, you must:
Have or register a business enterprise in the form of sole proprietorship business, partnership business or a limited company.
Acquire a PIN and tax compliance/ tax exemption certificate from the Kenya Revenue Authority website.
Get a partnership deed from a lawyer if your business is a partnership OR if it is a limited company, get a CR12 from the registrar of Companies (system generated soft copy).
Open a bank account for the business (if you don't have one) and acquire a bank reference from the bank.
Acquire all required certifications from professional bodies and authorities such as National Construction Authority, Insurance Regulatory Authority, ICPAK, LSK, National Council for Persons with Disabilities, NEMA, ERC and all other authorized bodies depending on the nature of your business.
Apply for the AGPO certificate on the AGPO website or visit your nearest Huduma Centre.
Once you register and obtain the AGPO certificate, you are at liberty to apply for the opportunities available on www.scale.co.ke tagged as AGPO.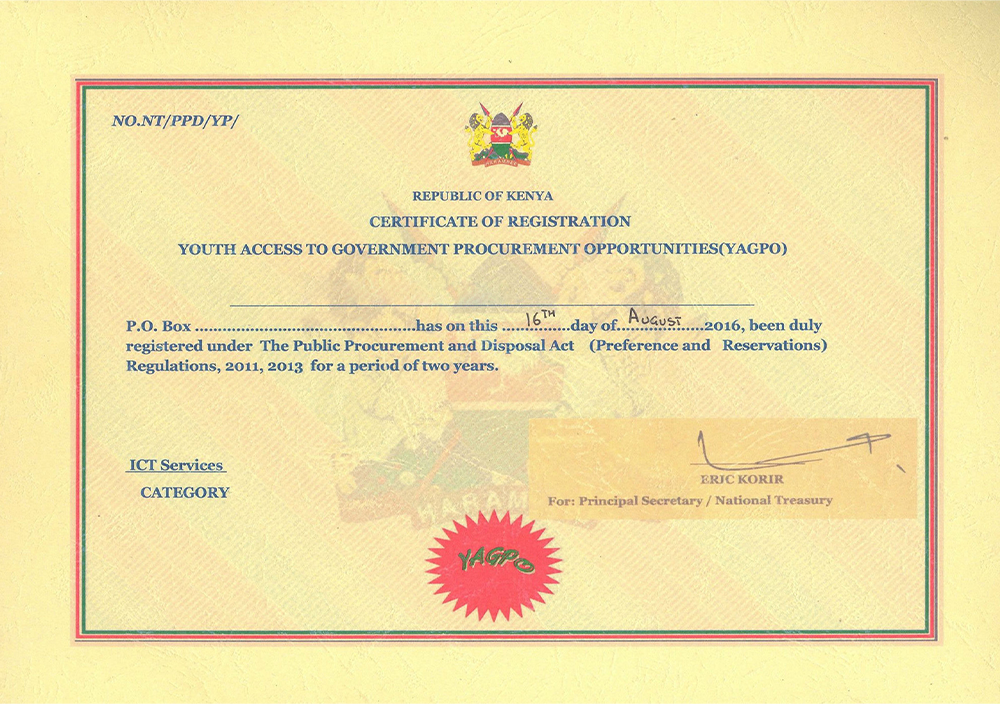 What are the benefits of having an AGPO Certificate?
Having the AGPO certificate provides entrepreneurs with various benefits that are regularly reviewed and updated by the government through the Director of Public Procurement and the PPRA offices. Below are some of the key benefits of getting an AGPO certificate for your business:
Access to 30% of all government procurement as reserved for AGPO enterprises as stipulated in the procurement plans of all public procuring entities.
Waiver of tender securities such as bid bonds and performance security that normally present an upfront barrier from a cost perspective.
Coordinated unbundling of large procurement contracts into practicable quantities that ensures maximum participation of disadvantaged groups, small and micro-enterprises.
Preference consideration for LPO/LSO financing by financial institutions and Government rotating funds such as Youth Fund, Women Fund and NCPWD funds.
Prompt payments (30 days) for AGPO companies supported by legislation
Invoice discounting
With over Ksh 300 billion worth of government tenders set aside every year for AGPO companies to win as well as the benefits described above, we believe there is a need for more enterprises to participate in public procurement and get a share of this.
Good luck!