Find and manage all your tenders from one place, digitally!
It's time to starting working with technology-based solution; proven to be more cost-effective with a surety of business continuity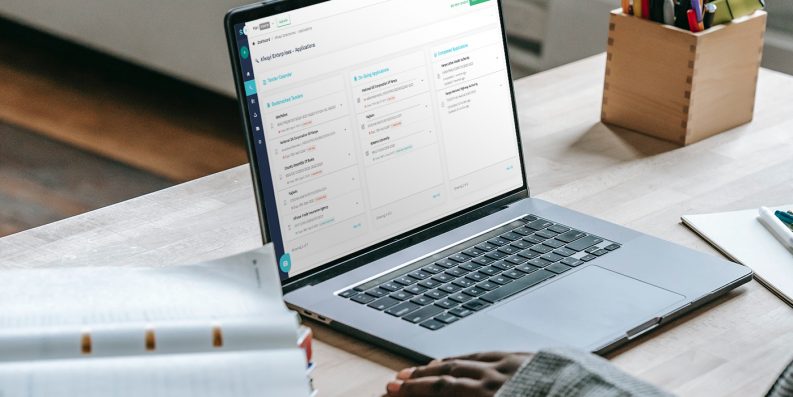 For the longest time, procurement technology has always been targeted at the larger and financially-loaded Procuring Entities. One common approach is where Procuring Entities are provided with a platform to publish and distribute tenders for suppliers. Does this sound like it caters for the Tender Management needs for your business?
What the approach means is a supplier has to create an account on this platform, fill in the forms or attach documents before submitting. This then means that for each Procuring Entity you want to engage with, you have to create a new account for your business on their platform. If you work harder in finding more opportunities, these platforms will increase ten-fold. This means the work of maintaining the credibility of your information by monitoring each of these platforms also increases proportionately.
Focus On The Suppliers first (i.e Tendering Entities)
In procurement, a majority of the suppliers (businesses that respond to tenders) are actually Small and Medium-sized businesses. These also represent about 80% of all the businesses registered in Kenya. So, why not provide a Procurement solution that addresses the tendering needs of this audience?
Some have tried, but they have been stuck at providing expensive tender alert services. We have taken the time to interrogate the tendering experience. And through Scale, we are developing business tools that digitize your critical functions and take all your work online.
In regards to the tender management solution, Scale provides the following important sections for you
1. Find Tenders
Did we mention that accessing tender opportunities and their corresponding document is completely FREE on Scale? We do not charge to view or download the tender documents once you find an opportunity that interests you. This is true for both the Government as well as Private sector tenders.
You can search using a number of parameters such as Tender Categories, Type of Procuring Entity or name of the Procuring Entity. This simplifies the process and the time it takes to go through the hundreds of tender opportunities each day. After you find a tender opportunity, you get a number of options that you can undertake as your next step.
First, you can choose to Bookmark the tender so that it's saved on your profile. Secondly, you could Download the tender document and save it on your computer. Thirdly, you can Share the tender document (via social media or email). Lastly, and most importantly, you have the option to Start Application using the digitized process on Scale.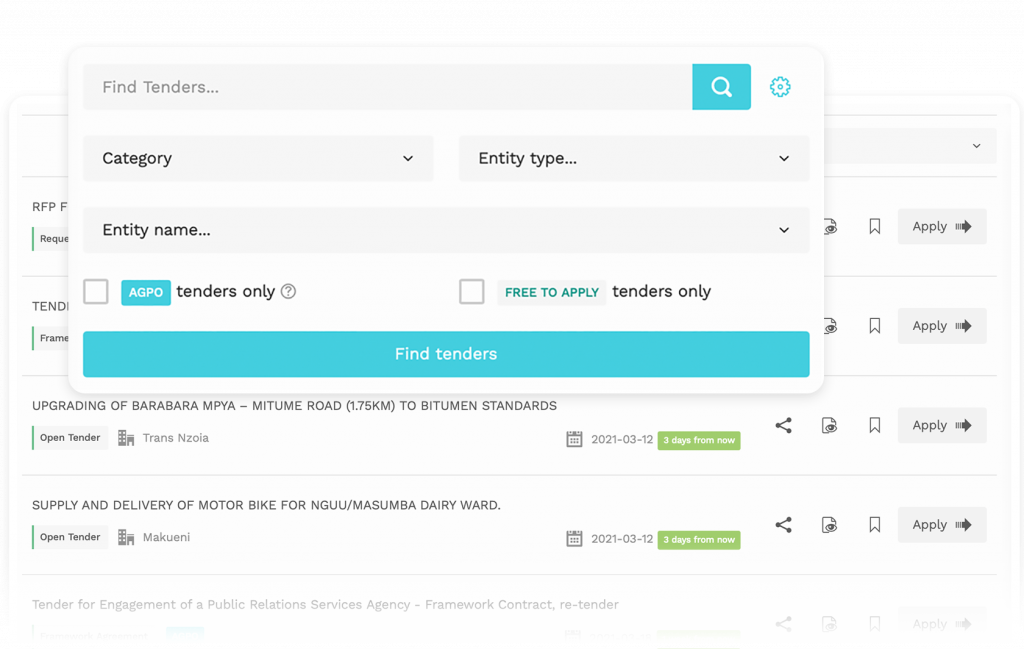 2. Upload tenders
There are times you may have access to business opportunities and tenders that may have not been published within Scale. No need to worry.
You can manage all your tendering activities from one place by uploading the tender to your Scale account and using our digitized process to respond to the tender. It is important to note that any tenders you upload and apply for will only be accessible to you.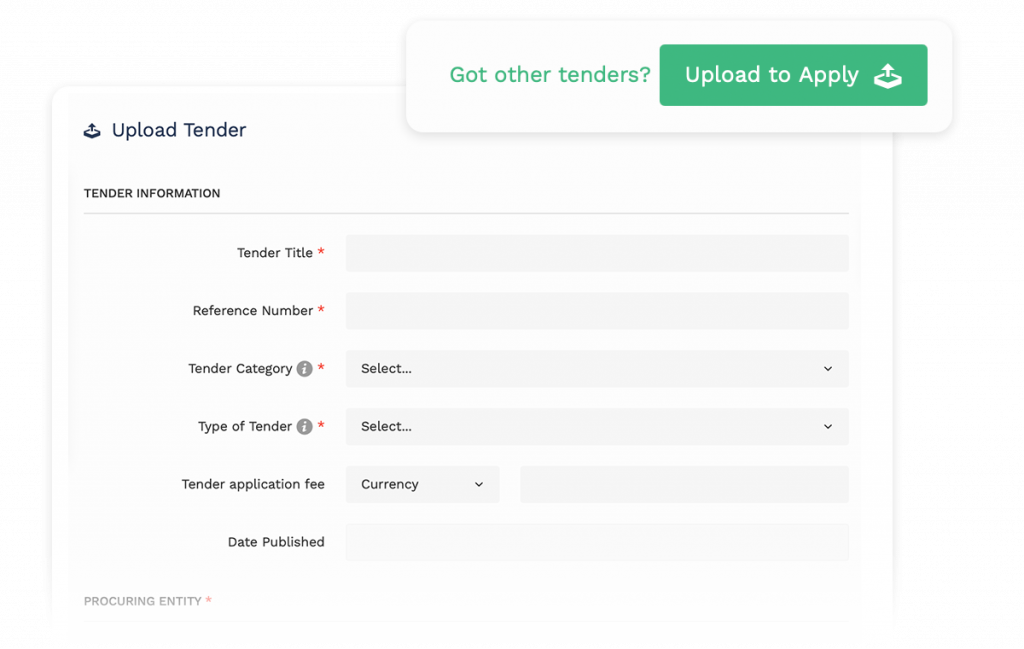 3. Tender Applications Management
This is the one centralized section that brings together all your various tendering activities as has been described above. Scale provides a Tender Management Dashboard with a singular view of all the opportunities that; you have saved but haven't started applying for (Bookmarked Tenders); the tenders that you have started the process of applying for but you are yet to finish (Ongoing Tenders); as well as the tenders that you have finalized on and exported the final document for submission (Completed Tenders).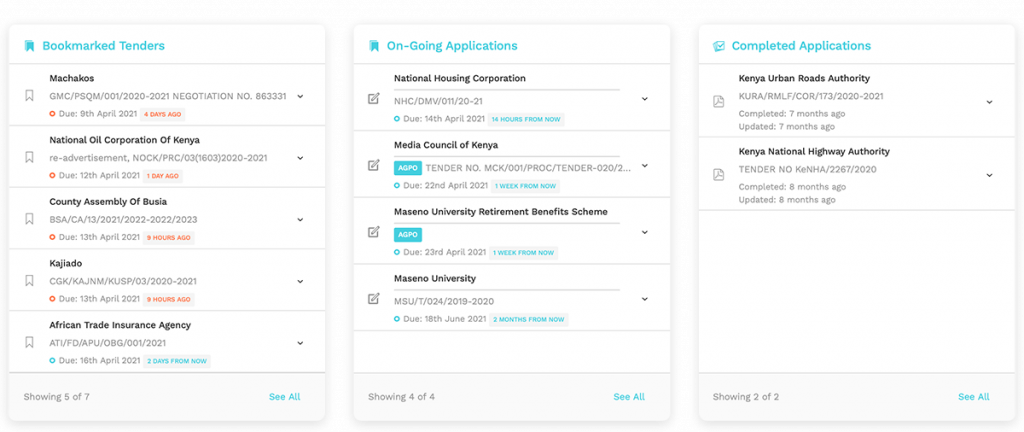 All this comes together in a neatly organized manner that allows you to quickly access each of the tenders and perform certain actions. Furthermore, you get a Tender Tracking Calendar which shows the important upcoming dates in terms of submission details across all of your tenders. Pretty cool, right!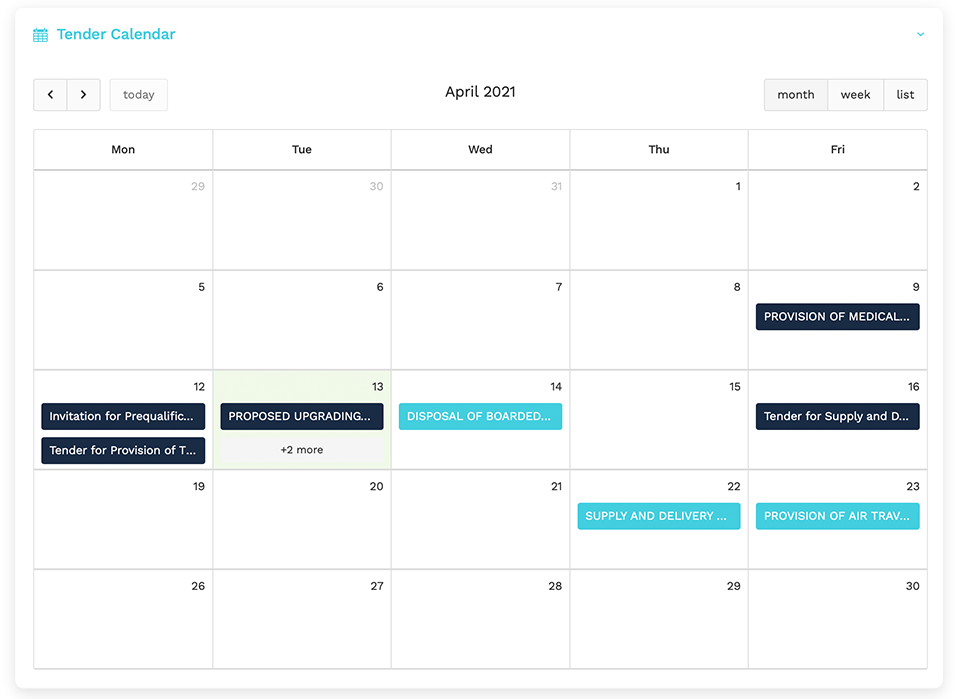 Yes, we believe it's time to move from doing things manually to working with a technology-based solution. These have proved to be more cost-effective and comes with a surety of continuity for your business operations. So, get started with Scale.co.ke today and get 30-Days Free Trial to try out our Tender Management System.
Already signed up? We would love to hear from you. Share with us your thoughts in the comments below.