Diversity, Equity and Inclusion in Procurement
The inclusion in procurement of women-owned businesses can create a domino effect in empowerment, job creation & social growth stimulation.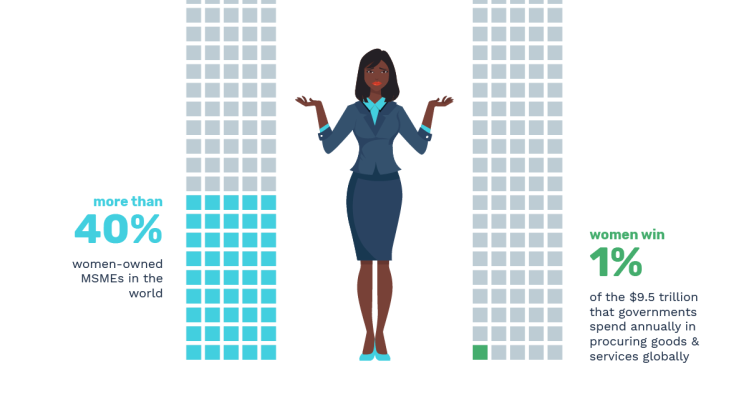 Despite women-owned businesses making up more than 40% of the world's Micro, Small and Medium Enterprises (MSMEs), only 1% of public procurement tenders are won by women: a jarring statistic by any measure. We have seen this play out across the private sector as well. What needs to be done to drive the inclusion of women-owned businesses in procurement?
Scale is an eProcurement solution that connects buyers with suppliers of goods and services. But more intricately, we designed Scale to facilitate the economic inclusion of women, youth and persons with disabilities through procurement.
"Private companies also have a role to play through practising 'gender-inclusive sourcing', which involves proactively addressing gender gaps in the procurement operations of corporate supply chains. Most firms are not keen on a gender-inclusive supply chain. This makes it hard to spot gender gaps and barriers to women's participation in procurement because there are no deliberate actions towards gender inclusivity in procurement." – Business Daily.
Having suffered as suppliers, we designed Scale in a way that would remove all the barriers to procurement that SMEs face. To this end, we have digitised the entire bid preparation process, provided free access to tender opportunities, continued to provide feedback for tenders they lose, reduced the cost and time of bid preparation by over 95% and crucially removed the technical complexity usually associated with tendering. And that is just the beginning.
Championing for Inclusion in Procurement
At Scale, we are actively championing diversity and inclusion. We are helping procuring entities meet their Diversity, Equity and Inclusion goals through procurement. When suppliers register on Scale, we collect information such as ownership group (women, youth, persons with disabilities), business categories (goods, services, non-consultancy services, works), specific business sectors, business type, size of company etc. We make it easier for businesses to have a view of the diversity of their suppliers and make it easy to target specific groups of suppliers with tenders based on their inclusion policies.
"Diversity & Inclusion is wider than the workplace. The most successful businesses know that by creating diversity in their supply chains as well, they can unlock innovation and agility, and improve their ethical credentials." –
CIPS
.
Furthermore, we help businesses track what percentage of their annual spending goes to women, youth or persons with disabilitie. And the multiplier effects associated with awarding tenders to these disadvantaged groups. Using data, we seek to highlight the benefits of inclusion to the bottom line of businesses and the general impact on communities.
Happy International Women's Day!